Images of Cheshire's people, places & events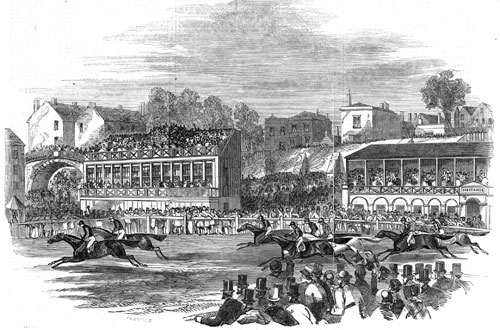 Picture of the month: Race for the Chester Cup from the Illustrated London News 9 May 1846.
Latest news!
The beginning of May brings the start of the horse racing season at Chester. Chester Racecourse, known as the Roodee, is according to official records the oldest racecourse still in use in England. The first recorded race was held on 9 February 1539 with the consent of the Mayor Henry Gee, whose name led to the use of the term "gee-gee" for horses. Horse racing was a replacement for the banned rather violent football match that was originally played at the Roodee on Shrove Tuesday. After 1609 the Races took place on St George's Day, (Both days were major festivals during the medieval period.) Victors were awarded the "Chester Bells", a set of decorative bells for decorating the horse's bridle, and from 1744 the "Grosvenor Gold Cup", a small tumbler made from solid gold (later silver). In 1745, the meeting became a four-day one, with one race on each day. In 1766 a May Festival was introduced, and in 1824, the Tradesmen's Cup Race (the predecessor to the Chester Cup) was also introduced.
The racecourse was at that point still just an open field, with the first grandstand finished in 1817 and the first admittance fee not being taken until 1897. The stand was rebuilt in 1899-1900, and was replaced after being destroyed by a fire in 1985. It is also thought to be the smallest racecourse in England at 1 mile and 1 furlong (1.8 km) long. To celebrate the start of the horse racing season we have found a wonderful 170 year old print of the Chester Cup Race from 9 May 1846.