Images of Cheshire's people, places & events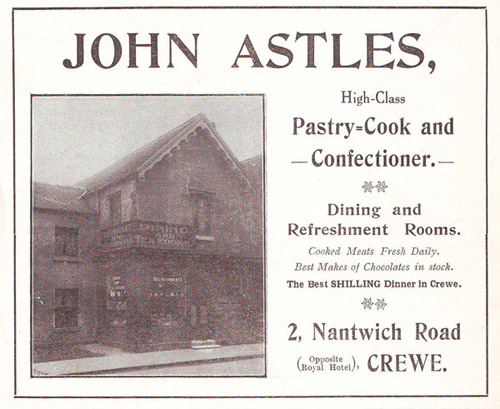 Picture of the month: Advertisement for Astle's Confectioners in Crewe, c1913.
Latest news!
We are pleased to have added over 750 new images dated from the First World War period thanks to the generosity of the Cheshire East Reflects project. As part of this project we have been able to digitise the larger advertisements from the Crewe Directory of 1913, some of which contain photographs or drawings, and the first 75 are available to view now. If you had a relative in the retail business in the Crewe area at the time you might be lucky to find an advert for their business. Just type the surname into the text box and see who you might discover! Revealing all 750 will be a work in progress, so probably worth checking in regularly.
Chester History & Heritage have now closed their doors to the public. Staff and volunteers will remain busy while they move into their new location at the Grosvenor Museum, which is expected to open in the Spring 2018. Staff will still be adding new images of Chester to the Image Bank, too.